Custom Fit Lottie J. Lingerie
Made available on request

Any and all sizes, genders, and fit need are welcome.
Lottie J. is undies for all of them.

Fit guide


How to order Custom

Gather a list of items for custom fit

Have all necessary measurements and fit notes ready for the notes at checkout.

Contact LJ via DM or email when you are ready to purchase and make your request. DMs are best for a quick response.

Before checking out: All measurements and fit needs must be entered into the notes before completing your purchase
Example:

Making a request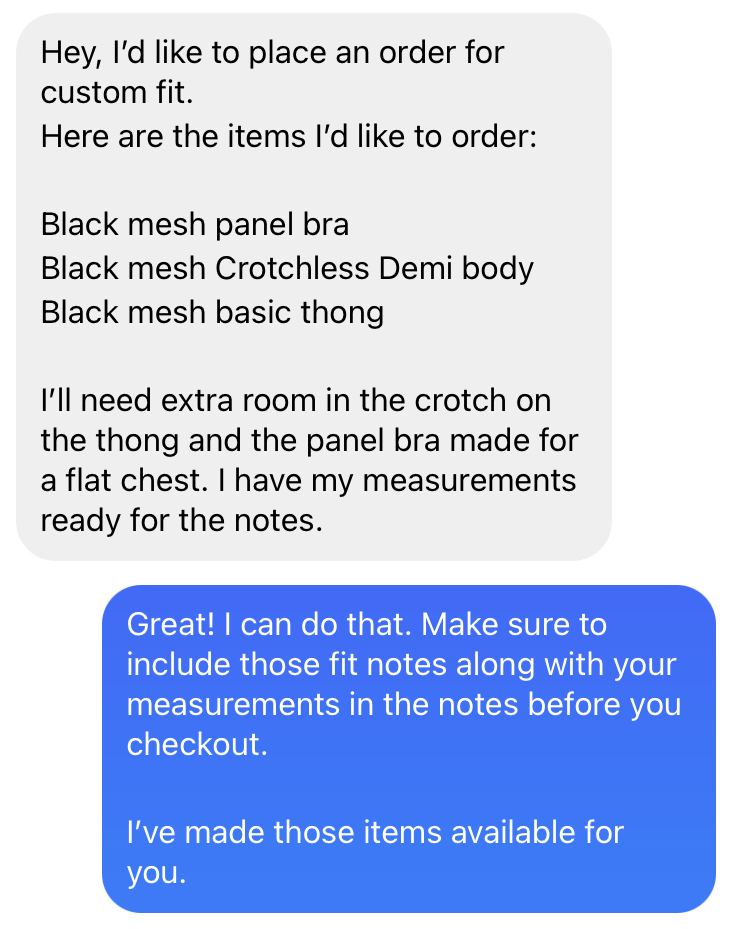 Example:

Notes at checkout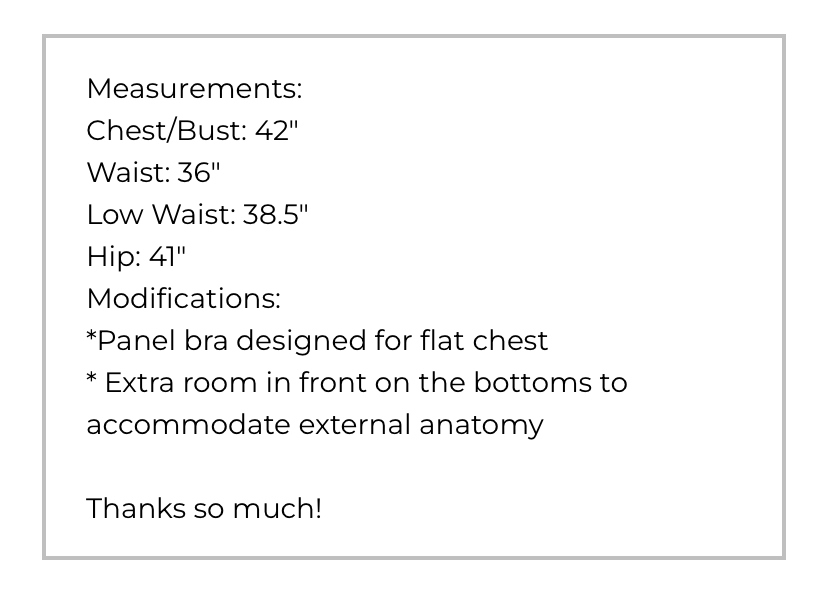 Our current pre-order options don't even begin to accommodate everyone. Because of this, we offer custom fit using customer provided measurements and/or info about specified fit needs.

The goal for the future of Lottie J. is to offer options for people to simply select and order without having to submit custom information about their fit needs, just like any other ordering process.

For now this is the best way for us to offer items that fit anyone, and everyone should have this option.


Common fit requests:
Size

accommodations




Fuller

bust, small

underbust



Flat chest

More tummy coverage for rounder bellies


Tucking modifications




Wider crotch for penis havers or

gender affiming wearables like packers
Etc.
These are just a few examples. Let us know if you need something different. Fit consultations can be scheduled as needed.

Custom Fit FAQs

Does it cost extra?

Not even a penny.


How long will my custom order take?

Expect to wait a while.
There is no set time for how long custom fit items take to process and ship. This slow fashion process can take several months. See the pending order page for more information.


What if it doesn't fit?
If your items dont fit upon recieving your order we offer a remake guarantee for any and all custom orders. Let us know.
How much can I customize?
Only the size/fit of available items can be modified.
Custom fit orders are not fully customizable (I.e. fabric/color, design, etc.)

If there is a specific fit need that requires further design alterations it
can be
discussed via a consultation.