Sizing- a suggestion.
Not a hard rule.
When in doubt size down!
All items are made with very accommodating stretch materials.

All pre-order items are sized individually, by measurements, in inches. Area of measurement is indicated by abbreviations. These letter and numbers will be your drop-down size selections.

Measurement indicator key:
OB: over bust/chest
B: full bust/chest
UB: under bust/chest
W: natural waist
LW: low waist
H: hip
TC: thigh crease
UBC: underbust to crotch

Any fit needs not accommodated in the pre-order selections can be made custom.

How to take your measurements


You'll need a

tailor's

measuring tape or a plus size measuring tape (for measurments over 60")

You may also need, a
friend, a top/

unlined bra for breast/chest support, and

the image below for reference.
Take your measurements nice and snug but never squeezing. You

should be

able to slide two fingers under the tape while you measure but not have too much slack in the tape.

Take each measurement twice to ensure accuracy. It's best to do this over thin, snug clothing.

Consultations can be scheduled if needed.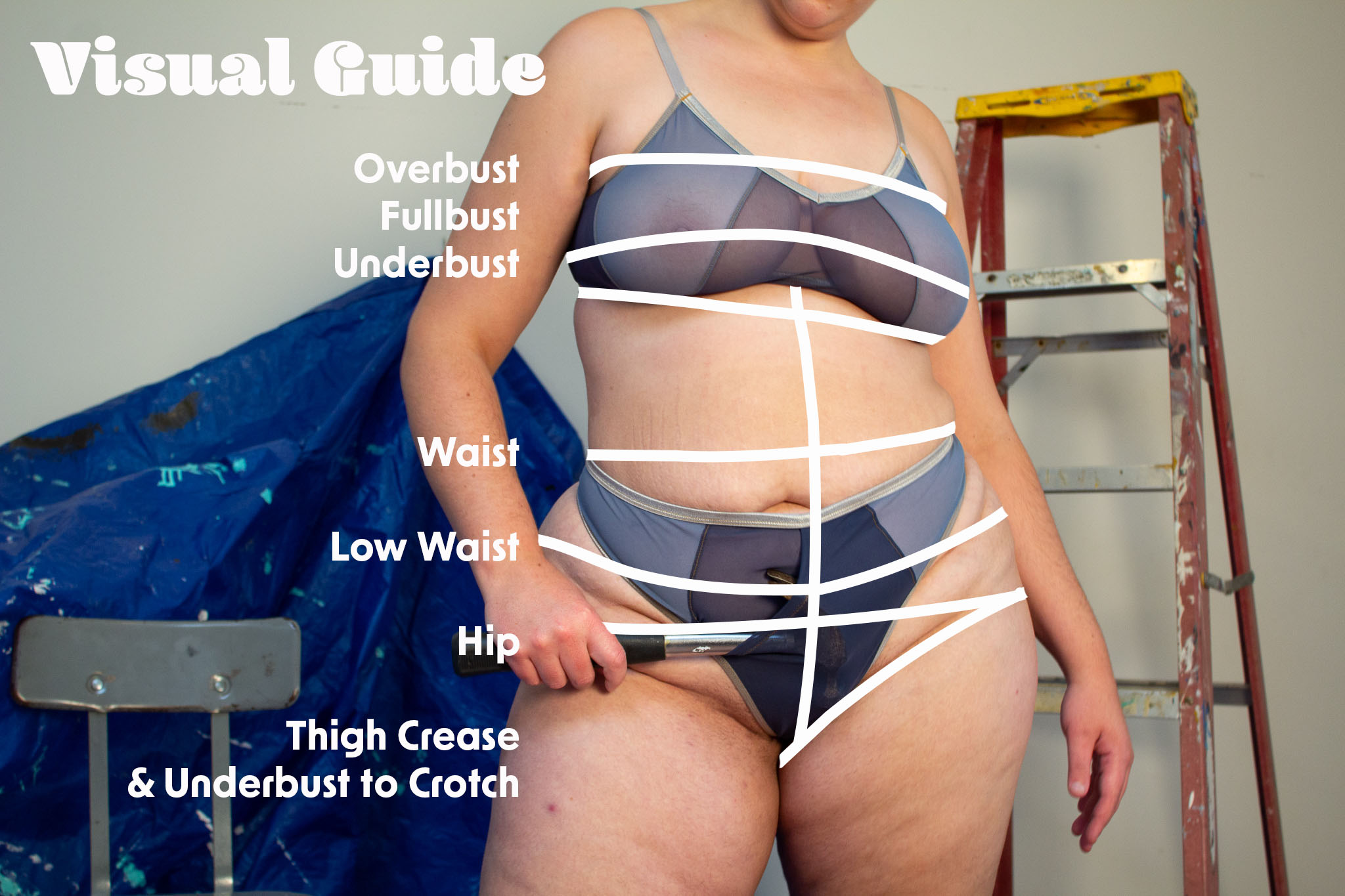 Full Bust/Chest: Start at the at the the fullest part of your chest. For some this is near where the nipples are, but not always. Circle the tape all the way around your back, meeting back at the front of your body in as straight a line as you can, parallel to the floor.

If needed, you can wear your favorite unlined bra while you take this measurement if you need support to get an accurate number.
Under Bust/Rib Cage: Wrap the measuring tape around your ribcage area. This will be just under where your your chest/breast tissue stops and your midsection begins.
Natural Waist: Find the space between your lowest rib and the top of your hip bone. If you're able, bending side to side can help. Wrap your measuring tape all the way around this part of your body, making sure its parallel to the ground.
Low Waist: Your low waist (or high hip) is between your natural waist and your hip. Take this measurement by wrapping the tape all the way around your low waist.
Hip: Your hip measurement is actually your booty measurement, so wrap the tape around the fullest part of your butt to find the most accurate number.
Thigh Crease: The thigh crease is where the top of your thigh meets your torso. Wrap your tape all the way around one thigh, at the very top of the leg, angled upwards at the side. Picture the leg hole on a classic pair of briefs. That leg hole is your thigh crease measurement.

Underbust to Crotch: Use your measuring tape vertically, starting at the underbust and draping it down in a taught line to just between your legs, at crotch. There is no need to wrap the tape around the body to the back side.

Arm: Set the end of your measuring tape on the very top of your shoulder (where a strap would sit) and measure down to the area below your armpit that is most comfortable for you. Don't wrap around to the other side. This will be half of that measurment (ie 11" from shoulder to below the under-arm would be 22")

Some additional measurements may be requested when ordering custom fit items like bust or tummy width or length, etc.