How to take your measurements

Grab yourself a measuring tape to take accurate measurements. If you need a measuring tape for measurements larger than 60" click here
Use the image below for reference and grab a friend to help you.
Take your measurements nice and snug but never squeezing. You should be able to slide two fingers under the tape while you measure but not have too much slack in the tape.
Full Bust/Chest: Start at the at the the fullest part of your chest, usually near where the nipples are but not always, wrapping the tape all the way around your back, meeting the tape at the front of your body again. Make sure your tape is in a straight line (parallel to the floor) across the chest and back. If needed, you can wear your favorite unlined bra while you take this measurement if you need support to get an accurate number.
Under Bust: Find your under bust measurement by wrapping the measuring tape around your ribcage area. This will be just under where your your chest/breast tissue stops and your midsection begins.
Natural Waist: Your natural waist can be located by pressing into your sides to find the space between your lowest rip and the top of your hip bone, or by bending side to side and finding where your waist creases naturally. On some people the waist can be located about an inch or two above your belly button but not always. Wrap your measuring tape all the way around this part of your body, making sure its parallel to the ground.
Low Waist: Your low waist (or high hip) is between your natural waist and your hip. Take this measurement by wrapping the tape all the way around your low waist.
Hip: Your hip measurement is actually your booty measurement, so wrap the tape around the fullest part of your butt to find the most accurate number.
Thigh Crease: The thigh crease measurement is taken all the way around one thigh at the very top of the leg, angled up at the side body. Picture the leg hole on a modest pair of underwear, and that line is your thigh crease measurement.

Underbust to Crotch: Some items are listed with the measurement for the length from underbust to crotch. To find this measurement use your measuring tape vertically, starting at the underbust and draping it down in a taut line to your crotch. There is no need to wrap around the body to the back side.

Arm: For items that do not have adjustable straps, like the Crop Tank, you may need to find the measurment from the top of your shounder to the palce where you prefer the under-arm of clothing items to sit on you. Set your measuring tape on the center top of your shoulder (where a strap would normally sit on you) and measure down to the area below your armpit that is most comfortable for you. This will be half of that measurment (ie 11" from shoulder to below the under-arm would be 22")

Tip! Take each measurement a few times to be sure you have the most accurate number, and take your measurements a few times each year to check for changes.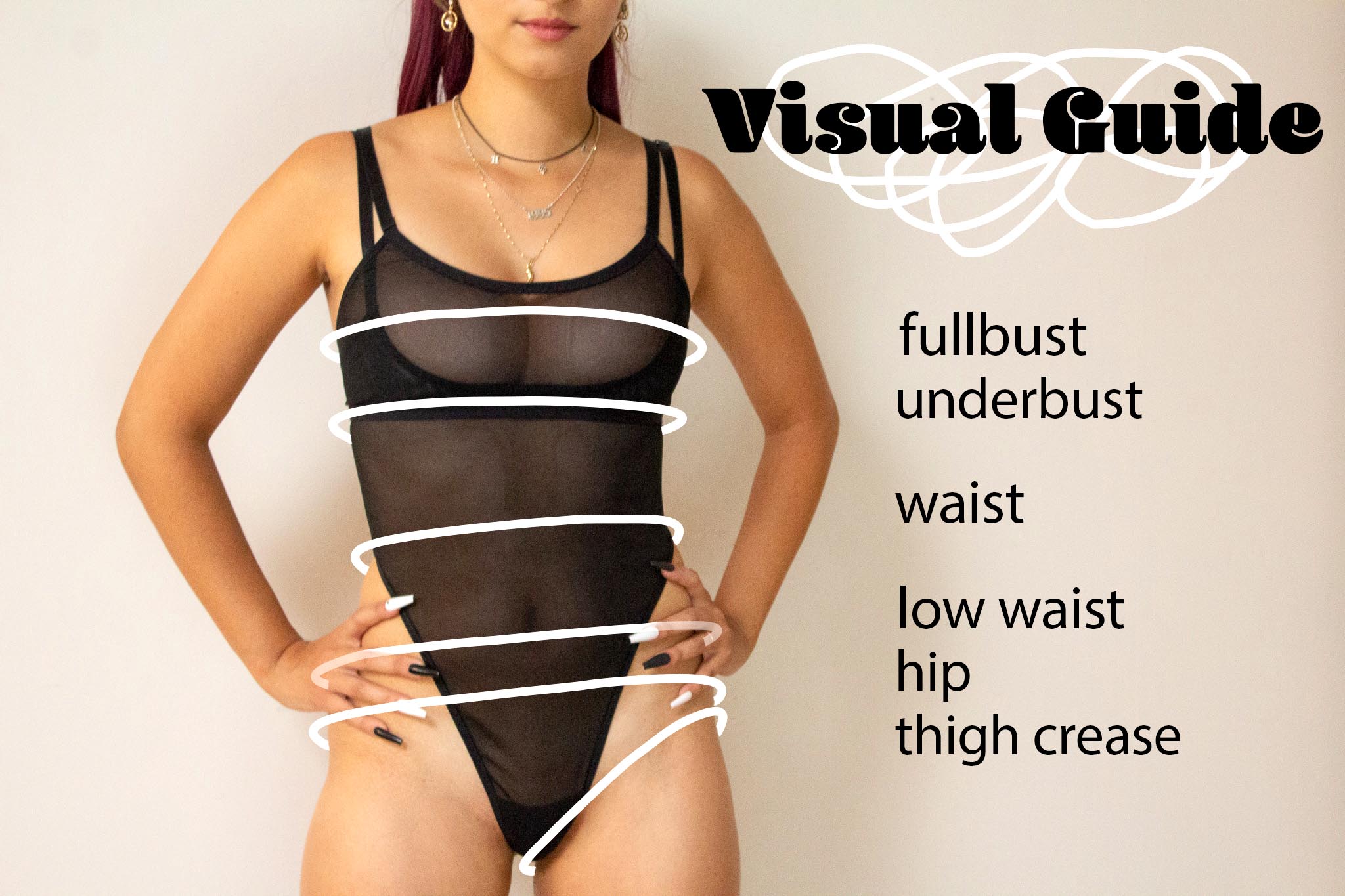 Best Care Practices

How to wash
Always care for your Lottie J. items by hand washing with a mild detergent, and only lay flat to dry. If needed, you can lay your garments on a clean towel and gently roll or press excess moisture out before you lay them flat to dry.
Empower your undies to last forever by caring for them properly.
What to avoid
Never dry your Lottie J. items in the dryer, or use heat of any kind on your hand made items.
Heat will reduce the life of the garment significantly by compromising the integrity of the elastic qualities in the fabrics used to make your garments.
Never wring out your Lottie J. items to rid them of excess moisture after washing.
Be careful not to stretch your garments unnecessarily when wearing or putting them on/taking them off as to avoid strain on the elastic materials and stitching.
Avoid swimming in your Lottie J. in waters treated with chlorine or any chemicals and avoid too much exposure to sunlight and warm temps.